Dropshipping: Here's Everything You Need to Know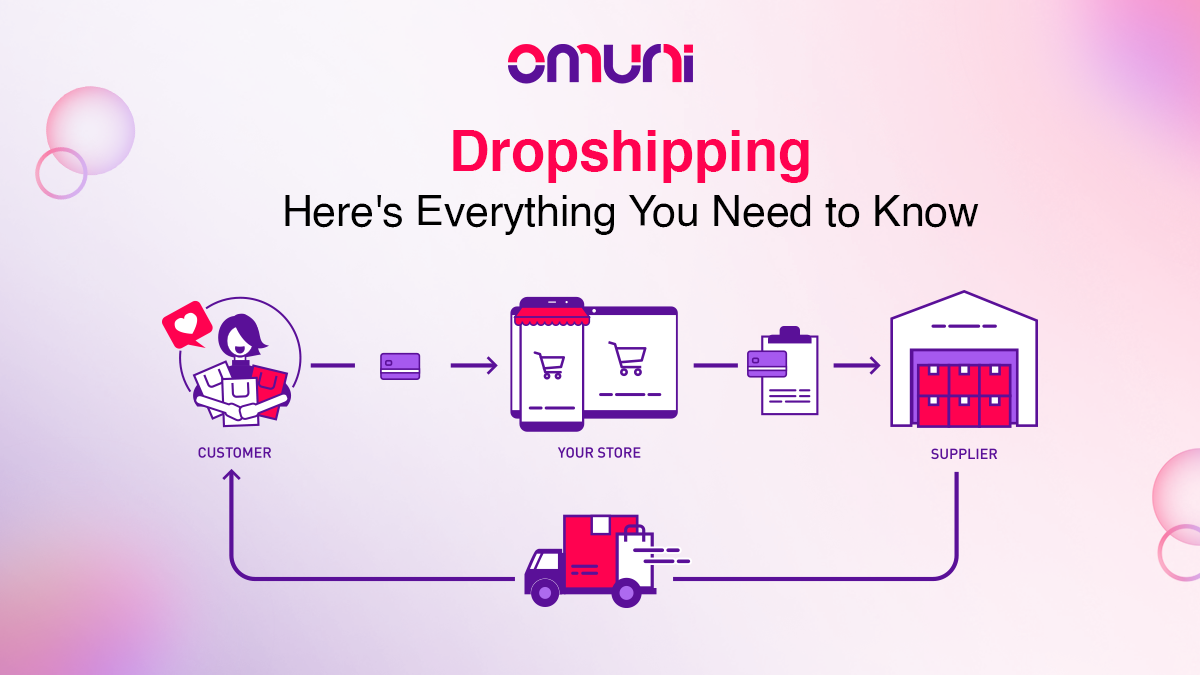 The eCommerce landscape is ever-evolving. Lately, dropshipping has emerged as a popular and low-risk business model. Whether you're a seasoned business owner or a newcomer, knowing everything about dropshipping can be really helpful.
In this blog, we will talk about dropshipping, its advantages and challenges.
What is Dropshipping?
Dropshipping is a retail fulfillment method where sellers don't store the products they sell. Instead, when they sell a product, they purchase items from a third-party store/platform and have them shipped directly to their customers. This means that the sellers don't have to handle the product directly, nor do they need to manage inventory or storage. They don't ever require investing in inventory before making a sale.
How Does Dropshipping Work?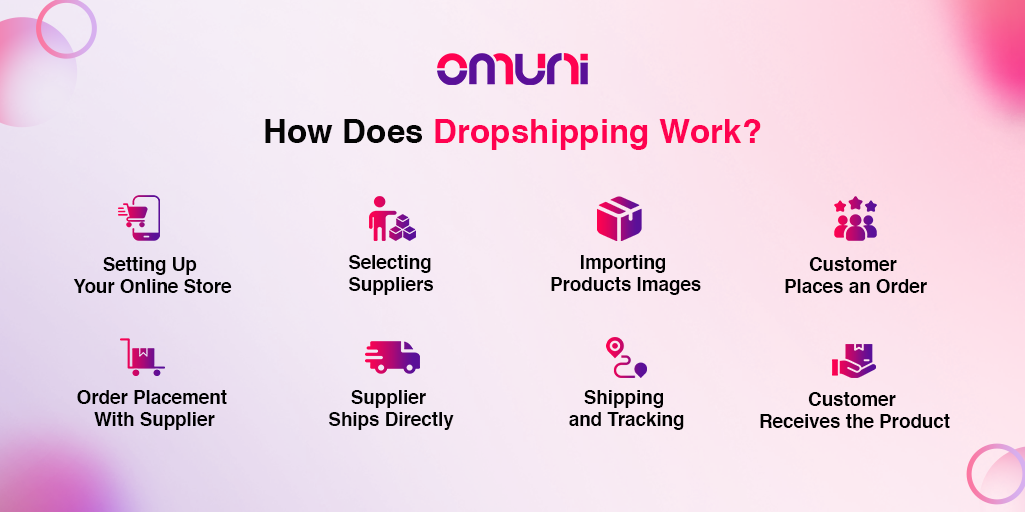 The dropshipping business model involves the store owner, the supplier and the customer. Here's a step-by-step breakdown of the process:
Step 1: Setting Up Your Online Store
As a dropshipper, your first step is to create an online store using various available platforms like Shopify, WooCommerce or BigCommerce. You need to design the store, list products and set competitive prices.
Step 2: Selecting Suppliers
Once you've set up your store, you'll need to partner with suppliers who offer dropshipping services. You can find them through online marketplaces or by establishing direct relationships with manufacturers offline.
Step 3: Importing Products Images
Next, import product images, descriptions and other details from your chosen suppliers to your online store. In all, you need to create a virtual catalogue of items for your customers to browse and purchase.
Step 4: Customer Places an Order
The next step is a customer placing an order on your online store and making a payment for it. You will receive the payment and order details.
Step 5: Order Placement with Supplier
After receiving the order and payment, you need to place the same order with your chosen supplier. You'll provide them with the customer's shipping information and other necessary details if needed.
Step 6: Supplier Ships Directly
The supplier will then pick, pack and ship the product directly to your customer on your behalf. They may use your branding or generic packaging, depending on the agreement.
Step 7: Shipping and Tracking
You can provide your customer with tracking information so they can track their order.
Step 8: Customer Receives the Product
Lastly, the customer receives the product. Since you don't handle the inventory or shipping, your involvement ends here.
Advantages of Dropshipping
There are several advantages of dropshipping:
Low Startup Costs
With dropshipping, you don't need to invest mainly in inventory, warehousing, and fulfilment infrastructure.
Wide Product Variety
You can offer a diverse range of products without any investment. You don't have to stock inventory, allowing you to test different markets and niches conveniently.
Flexibility and Mobility
Dropshipping enables you to run your business from anywhere and any time with an active internet connection, giving you the freedom to travel or work remotely.
Reduced Risk
Since you only purchase products after a customer places an order, the risk is reduced significantly.
Scalability
Scaling your dropshipping business is relatively easy, as you don't have to worry about inventory, warehouse space, etc.
Challenges and Considerations
Lower Profit Margins
Well, while dropshipping offers convenience, the profit margins are also low compared to traditional retail due to the higher product costs from suppliers.
Dependence on Suppliers
Your business reputation highly relies on the reliability and efficiency of your suppliers. Any errors or delays on their part can impact your business negatively.
Inventory and Product Quality Control
Since you don't handle the products, ensuring their quality and availability can be challenging.
Shipping Times and Costs
Shipping times may vary, and customers may have to wait longer for their orders. Additionally, international shipping can lead to higher costs and potential customs issues.
Competition
The barrier to entry for dropshipping is relatively low. However, this has led to increased competition in popular niches.
Tips for Dropshipping Success
Choose Reliable Suppliers: Research and partner with reliable suppliers to ensure a smooth fulfillment process and a positive business image.
Focus on Marketing: Invest in marketing strategies to drive traffic to your online store/website and convert visitors into customers efficiently.
Provide Excellent Customer Service: This is crucial in the dropshipping business! Offer responsive customer support and clear communication to build trust and loyalty.
Test and Iterate: Continuously test different products, marketing approaches and pricing strategies to optimise your business.
Manage Expectations: Be transparent with your customers about shipping times, product quality, and potential delays.
Conclusion
Dropshipping presents a unique opportunity for entrepreneurs to enter the eCommerce arena with relatively low upfront costs and risks. While it offers several advantages, it also comes with challenges that require careful consideration and management. By carefully understanding the ins and outs of dropshipping, you can make an informed decision to build a successful online business that delivers value to you and your customers.