BOPIS: The New-Age Shopping Model To Increase Sales
Delivering seamless customer experience is a science perfected only by a few. It requires keeping customers at the center of your growth strategy and fulfilling their ever-evolving demands. Today, every customer demands two things from a brand: flexibility and convenience, and BOPIS delivers on both fronts.
According to a report by Mckinsey, 56% of customers wish to use models like BOPIS. BOPIS combines the best of offline and online shopping for customers while benefiting brands by reducing logistics costs and increasing in-store customers.
But what exactly is BOPIS? What does it even stand for? In this article, we will discuss in detail the meaning of BOPIS and why it should be the priority of your retail strategy.
What is BOPIS?
BOPIS stands for 'Buy Online, Pick Up In-Store.' As the name suggests, BOPIS is a shopping model where customers place their orders online via a website or application and can pick up orders at the nearest store.
BOPIS has gained immense popularity among users who want the convenience of online channels but want instant gratification. As more and more consumers look for ways to streamline their shopping experience, BOPIS has become a go-to option for many.
The BOPIS Journey
BOPIS is a fairly straightforward shopping model where customers browse and purchase products online through the retailer's website or app. At checkout, customers must select the BOPIS option and choose the store location where they want to pick up the product.
Once an order has been placed, the brand gains the visibility of the order and starts processing it. At this time brand sends a notification to the store so that store can prepare the order and set it aside for the customer to pick up. When the customer arrives at the store, they can show their order confirmation or invoice to the store staff, who then hands over the product to the customer.
Advantages of BOPIS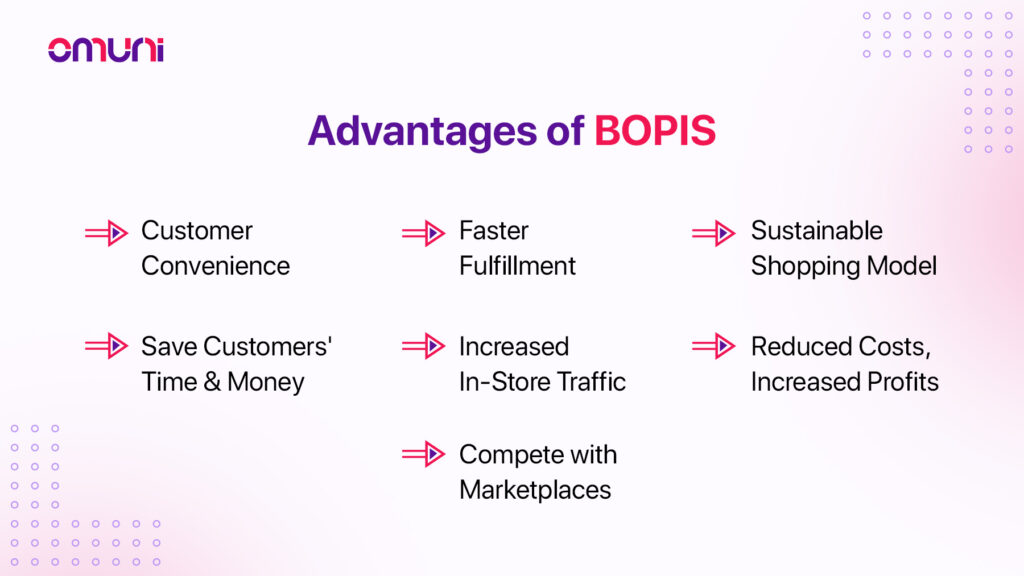 BOPIS has become an important part of implementing an omnichannel retail strategy because of the benefits it delivers.
Customer Convenience
BOPIS delivers a great deal of comfort and flexibility to customers. Today, customers want to research the products they wish to buy from the comfort of their homes. They don't want to wander aimlessly through stores or wait in long checkout lines; instead, they spend a lot of time browsing the product even before going to the store. This is why 71% of customers expect the BOPIS shopping model to be available permanently, according to a report.
Save Customers' Time and Money
BOPIS saves shoppers time and money as they can browse the product online. Shoppers can compare prices and find deals for the product they wish to buy. At the same time, they can save money by avoiding shipping fees and save time by avoiding long checkout lines.
Faster Fulfillment
If a brand has a good omnichannel partner, then BOPIS becomes a less complex order fulfilment process. When shoppers select BOPIS fulfilment, in most cases, they can pick up the product immediately. On the contrary, it may take up to 2-3 days to deliver most online orders.
Increased In-Store Traffic
BOPIS can benefit brands by increasing in-store traffic to their retail stores. By encouraging customers to come to their stores to pick up their purchases, retailers get more upsell and cross-sell opportunities and can offer promotions they may not have seen online. This can help retailers drive additional sales and improve customer loyalty.
Sustainable Shopping Model
BOPIS is a more sustainable shopping option. By eliminating the need for shipping, retailers can reduce their carbon footprint and save on packaging costs. Additionally, shoppers can reduce their own carbon footprint by driving to the store to pick up their items instead of having them shipped.
Reduced Costs, Increased Profits
BOPIS reduces inventory carrying costs, fulfilment costs, and logistics costs. According to a report, 60% of carts are abandoned because of high and unexpected costs like shipping fees. By reducing costs, BOPIS can increase the overall profitability of the brand and help them convert more customers by offering them to buy products without an extra fee.
Compete with Marketplaces
BOPIS can help retailers compete with e-commerce marketplaces like Amazon, Flipkart, and the like. By offering a more convenient and cost-effective option for customers to receive their purchases, brands can attract customers who may have otherwise turned to online shopping. This can help retailers stay competitive in a rapidly changing retail landscape.
Conclusion
BOPIS is a shopping model that is here to stay. It offers customers a convenient, cost-effective, and sustainable shopping option while also benefiting retailers. As retailers continue to adapt to changing consumer behaviours and preferences, BOPIS will remain a go-to option for retailers.
Frequently Asked Questions (FAQs)
Why are customers choosing BOPIS?
Shoppers chose BOPIS because it delivers the convenience of shopping online with the flexibility of picking up the product from the nearest store, saving time and shipping costs.
What are the three benefits of BOPIS?
BOPIS offers many benefits to customers
Faster fulfilment
No logistics costs
Convenience to customers
Improved inventory management
What are BOSS and BORIS?
BOSS and BORIS are also types of omnichannel journeys.
BOSS is an acronym for buy online, ship from the store, where customers buy online and the product gets delivered from the nearest store.
BORIS is an acronym for buy online, return to the store, where customers buying the product online can return it to the nearest store.