How Omnichannel Commerce Benefits Your Business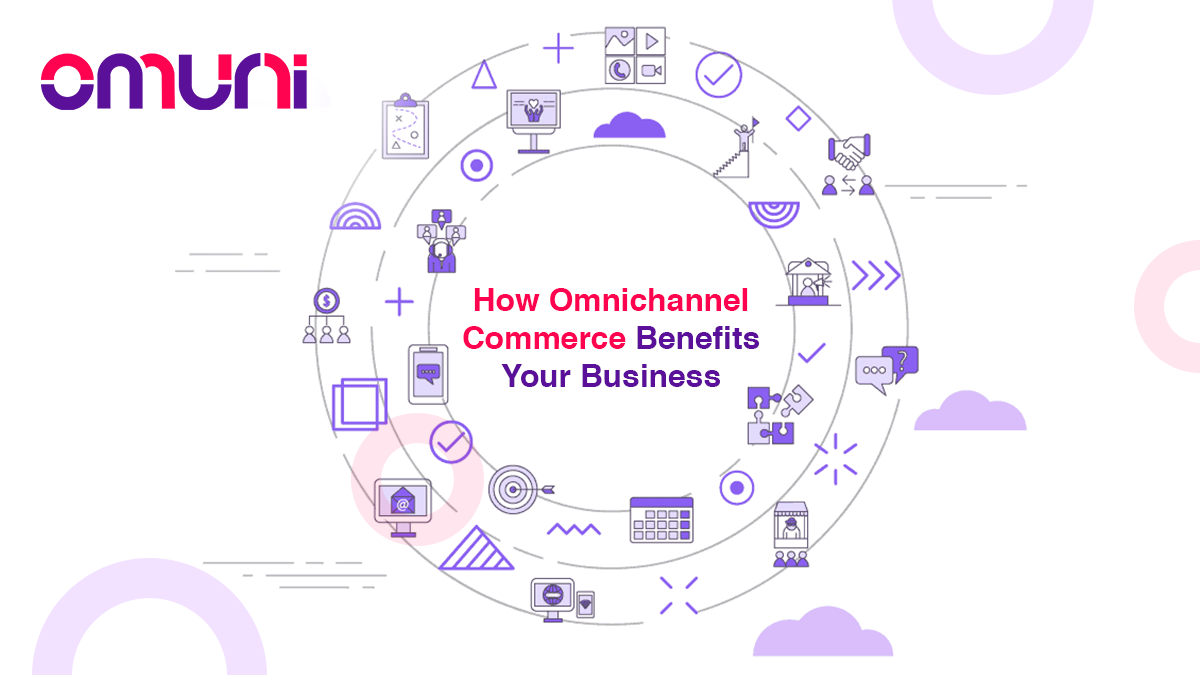 For a brand to be successful, it needs to deliver a consistent shopping experience to its customers. Consistency has become essential for any brand as it builds positive relationships with customers and keeps them coming back.
However, delivering a consistent shopping experience can be difficult for any brand since customers explore various channels, like websites, social media, apps, brick-and-mortar stores, etc., before making a purchase. A report by Harvard Review suggests that more than 73% of shoppers use multiple channels in their shopping journey.
A common question that arises here is how brands can deliver consistent and unique shopping experiences to their customers across all channels. This is where omnichannel commerce comes in.
What Is Omnichannel Commerce?
Omnichannel commerce is an approach where all the brands' touchpoints, like retail stores, websites, social media, apps, etc., are integrated so that customers can enjoy a seamless shopping experience. The idea here is to provide customers with a smooth and consistent experience whether they complete their buying journey on their phones or visit the store.
The concept of omnichannel commerce works on synchronizing all components of an e-commerce system of a brand, like the inventory management system, orders management system, and logistics management system. These systems are then integrated with the end-user using a single platform to develop a single view of the entire system.
In simple terms, omnichannel commerce establishes a system in which information flows seamlessly across all channels and enables omnichannel journeys like BOPIS, BOSS, BORIS, hyperlocal, etc., to meet expectations by creating a unified shopping experience for the customers.
Benefits of Omnichannel Commerce
There are numerous benefits to adopting commerce. Let's look at some of them:
#1- Increased Sales and Revenue
The main benefit of integrating all the sales channels is that businesses can reach a wider audience and increase the frequency of purchases. According to a report, businesses using omnichannel commerce see up to a 9.5% increase in revenue.
An increase in sales and revenue is a great benefit for brands looking to scale their business; therefore, prioritizing omnichannel commerce can be of significant importance for long-term growth.
#2- Improved Customer Experience
Today, the number of sales channels is increasing continuously, and these touchpoints need to be unified. By delivering consistent and seamless shopping journeys across all sales channels, brands can improve customer engagement and experience.
Omnichannel commerce allows customers to buy anything anywhere and enjoy flexible fulfillment and delivery options.
#3- Efficient Inventory Management
Omnichannel commerce integrates inventory across the whole network on a single platform. This enables brands to get an accurate and up-to-date inventory view, avoiding understocking, overstocking, and reducing waste.
Omnichannel commerce allows brands to take orders and sell products even if the product is out of stock in a store, thus mitigating loss of sales.
#4- Increased Operational Efficiency
Omnichannel commerce helps brands increase their operational efficiency by streamlining the back-end processes and reducing manual tasks. Operational efficiency is important for any brand as it reduces costs, reduces waste, and increases overall productivity.
For instance, brands can reduce logistics costs by fulfilling orders from the nearest touchpoint to the customer. Another way in which omnichannel improves efficiency is that it optimizes stores and enables sales staff to do more.
#5- Increased Customer Retention
By delivering a consistent customer experience, brands can improve customer retention. A report claims that businesses adopting omnichannel strategies gain 91% year-over-year customer retention rates.
Omnichannel commerce enables brands to offer exceptional customer service, offer anything anytime, and regularly maintain customer communication. Increased customer retention helps brands see an increase in the overall cart value and attract new customers through positive word of mouth.
#6- Better Decision Making
Decision-making is critical for every business, and better decisions can differentiate success and failure for any brand.
Omnichannel commerce provides businesses with abundant customer data, like purchase history, shopping behaviour, and preferences. This information can be utilized to make informed choices regarding product offerings, marketing strategies, and customer engagement.
The Future of Omnichannel Commerce in India
As per a report by Forbes, more than 70% of brands have an online strategy or are working on one. The omnichannel approach for retail and e-commerce is rapidly gaining popularity in India and is seen as the future of shopping. India is projected to become one of the largest markets for omnichannel retail due to its expanding population, rising purchasing power, and rapidly expanding e-commerce industry.
Consequently, businesses that can effectively implement omnichannel commerce in India will have a significant competitive advantage. Therefore, it is important to partner with a reliable omnichannel provider which provides end-to-end solutions so that brands can reap all the above-stated benefits of omnichannel commerce.
As India's largest and most preferred omnichannel platform, Omuni provides innovative and easy-to-integrate solutions for retail stores, websites, social platforms, and marketplaces. Omuni is powering 100+ global brands across 10,000+ stores, covering multiple categories like fashion and lifestyle, electronics, footwear, FMCG, pharmacy, home & furnishings, etc.
Conclusion
Omnichannel commerce helps brands deliver the same by integrating all the touchpoints so that customers can buy anything anytime. Omnichannel commerce establishes a system where information flows seamlessly across all channels and delivers a unified customer shopping experience.
Brands today can't overlook the value of providing a seamless and consistent shopping experience across all channels; therefore, embracing omnichannel commerce is the right decision for any brand.
FAQs (frequently asked questions)
Q1- What is omnichannel commerce?
Omnichannel commerce is an approach where all the brands' touchpoints, like retail stores, websites, social media, apps, etc., are integrated so that customers can enjoy a seamless shopping experience.
Q2- What is the difference between single-channel, multi-channel and omnichannel retail?
Single channel: A brand that sells its products through a single channel, like a retail store.
Multi-channel: A brand that sells its products through many channels like marketplaces, e-commerce websites, brick-and-mortar stores, etc.
Omnichannel: A brand that delivers seamless shopping across all its channels, including brick-and-mortar stores, e-commerce websites, marketplaces, mobile apps, etc.

Q3- How to personalize marketing across all channels?
Omnichannel commerce lets brands connect different tools that make it easy to run personalized marketing and messaging campaigns.