Overview of Omnichannel Adoption in India's Retail Industry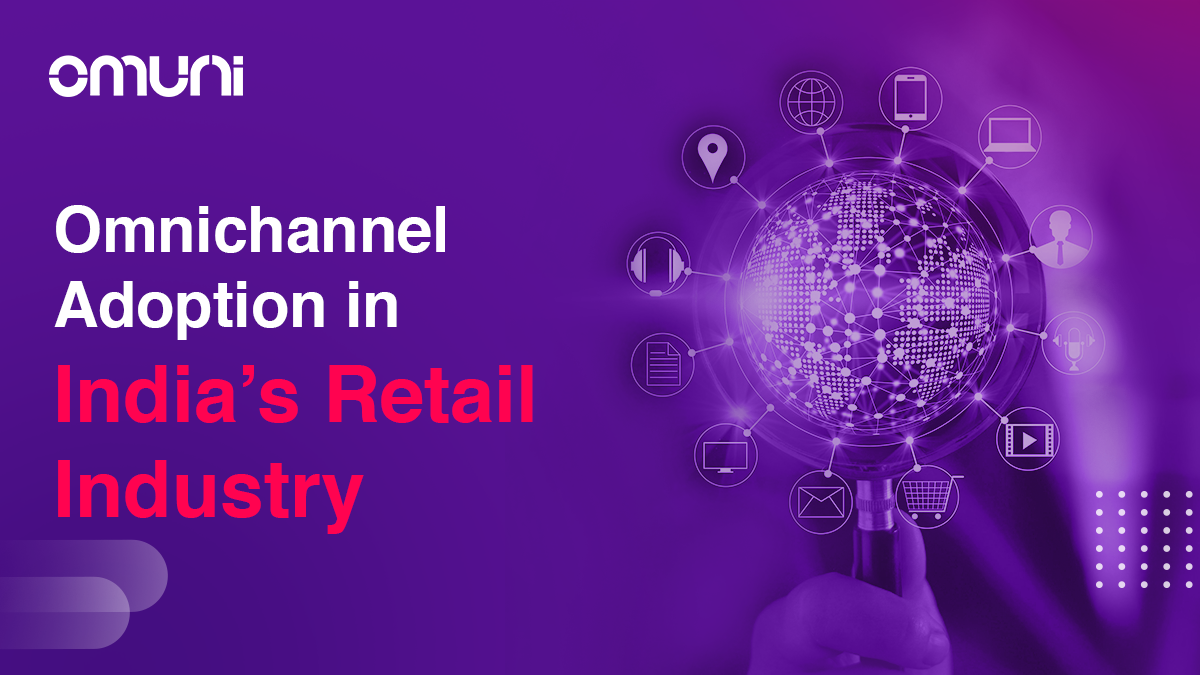 Omnichannel adoption in India's retail industry has witnessed a steady and progressive growth trajectory over the past few years. India's numbers are in resonance with global trends. According to the State of the Connected Customer report published by Salesforce, 76% of users expect consistent interactions across departments.
The evolution of omnichannel is attributed to several factors that have shaped the retail landscape in India, including but not limited to the rapid expansion of eCommerce. As per the India Brand Equity Foundation report, India is the third-largest eCommerce market after China and the United States. According to the same report, the online shopper base in the country will likely reach 350 Million by 2026.
What is Omnichannel?
Omnichannel is a retail strategy where retailers engage customers through multiple digital and physical channels or touchpoints. These touchpoints include physical stores, eCommerce websites and mobile applications, social media platforms, call centres, etc.
As customers move across these touchpoints, applications and data, follow them. The exercise creates a consistent, on-brand experience from beginning to end. The omnichannel concept revolves around breaking down the barriers between online and offline channels to create a cohesive and consistent experience.
It offers customers a unified brand engagement, personalised interactions and the flexibility to engage and transact through their preferred channels. This has influenced retail brands of all sizes and domains to set up omnichannel stores within a brick-and-mortar location to further their reach, visibility and impact with their users.
Importance of Omnichannel
Omnichannel retailing, which integrates multiple channels to provide a seamless shopping experience to customers, is crucial in the modern retail landscape.
Here are some key reasons why omnichannel retailing is important:
Customer Expectations
No brand can overlook customer expectations in the 21st century. Users now have a range of options, and it takes little time for them to switch to your competitors if you fall short of their expectations.
Customers want a unified and consistent shopping experience across various channels. They like the flexibility to browse, research, purchase and return products through their preferred channels. You can meet these expectations and provide a seamless customer experience by offering an omnichannel approach.
Customer Lifetime Value
Omnichannel puts customers first. It is one of the primary reasons why customers want to stay with a business. Customers feel comfortable and happy when you prioritise and give them control. Omnichannel retailing offers customers all of these.
Retail leaders understand that long-term goals are crucial, and the same is evident from a Coresight report. The report shows that 53% of leading retailers across Europe feel that enhancing lifetime customer value is a reason for executing an omnichannel system.
Convenience and Flexibility
One of the greatest significances of Omnichannel retailing is that it offers convenience and flexibility to customers. It allows users to shop at their convenience and preference. They can start their shopping journey on a mobile device and finish it in a store.
Operational Efficiency
Omnichannel strategies help you witness increased operational efficiency and reduced costs. With an omnichannel approach, you only need to collect a customer's data once. This helps businesses develop holistic and consistent retail management across channels, increasing operational efficiency.
Competitive Advantage
We all want to enjoy a defining competitive edge at some point. Adopting an effective omnichannel process in retail can give you a competitive advantage. You can differentiate yourself from competitors and attract customers who value convenience and consistency by offering a superior shopping experience.
Increased Sales
Ultimately, it all boils down to the sales numbers. According to a Harvard Business Review study, omnichannel users spend 10% more online than single-channel customers. You can leverage multiple channels, expand your reach and tap into new sales opportunities.
Omnichannel Adoption in India
Many retail businesses across India have implemented an omnichannel strategy, and others are on their way to adopting it. The retail sector is growing in India, and inventory integration has become a compelling need. As per a Times of India news piece, the Indian retail industry will likely grow to more than $1.8 trillion by 2030. This means that the omnichannel approach will be crucial to cater to such a massive demand in the coming days.
Factors Driving Omnichannel Adoption in India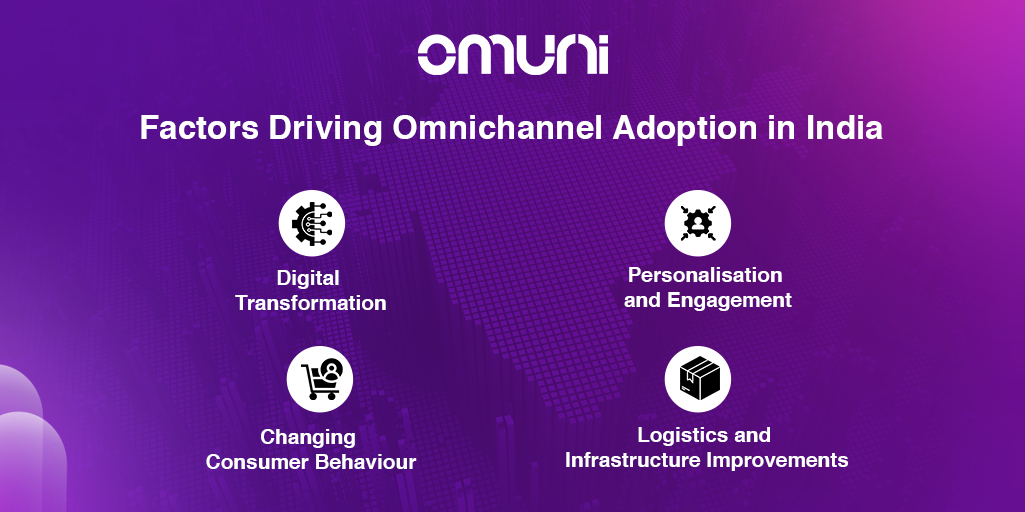 Multiple reasons are driving omnichannel adoption in India. Here are some key factors:
Digital Transformation
India is experiencing a significant digital transformation, growing internet penetration, smartphone usage and access to affordable data plans. This has influenced the implementation of omnichannel approaches as retailers acknowledge the need to meet customers at laters' convenience.
Changing Consumer Behaviour
Consumers' behaviours have evolved around the globe, and India is not immune to this change. Indian customers now want convenience, choice and seamless shopping experiences. They expect the flexibility to shop through various channels such as physical stores, apps and social media platforms. The omnichannel system enables the Indian retail industry to deliver a consistent experience across channels.
Personalisation and Engagement
One of the benefits of omnichannel adoption is that it allows you to collect customer data from multiple touchpoints. It helps you analyse your customers' browsing behaviour, purchase history and preferences. This data lets you personalise marketing efforts, tailor product recommendations and enhance customer engagement.
Logistics and Infrastructure Improvements
India has seen progress in logistics infrastructure in recent years, including expansion in logistics networks and advancements in last-mile delivery solutions. This transformation has enabled smoother omnichannel operations. It has helped retailers fulfil orders and meet customer expectations across multiple channels.
Conclusion
Omnichannel adoption in India's retail industry is picking up as retailers aim to fulfill changing customer demands, leverage digital progress and stay competitive in an evolving market.
By combining online and offline channels, the retail industry can deliver seamless and personalised shopping experiences, tapping into the growing eCommerce market and fostering customer loyalty. With India's digital change and consumer choices driving the demand for convenience and preference, adopting omnichannel strategies has become vital for retailers.
What is the role of omnichannel in retailing?
The omnichannel approach allows retailers to engage users through multiple digital and physical touchpoints.
What is an example of omnichannel retailing?
An example of omnichannel retailing is a clothing brand selling products through its online store, Instagram and in person.
What is an example of omnichannel in India?
Pepperfry, one of India's biggest online furniture retailers, is an example of an omnichannel approach in India.