Omnichannel: Your Path to Business Success
Omnichannel marketing offers a seamless branding experience across all channels. Customers can interact with your brand via SMS, blog, tweet, or an IVR call. Omnichannel marketing works towards delivering consistent messaging across all consumer touchpoints. It also aims at offering a seamless user experience. A customer can come across your print ad, and from there, he can move to your social media channel. It is crucial that your brand must offer consistent messaging and experience to increase brand recall.
What is Omnichannel Commerce?
Omnichannel commerce or retail is the approach of selling products through multiple channels to provide a seamless customer experience. Whether your customer is buying from an offline store or social media, they must have a consistent experience across all sales channels. Many customers also gather all information about the product from different channels and then decide to buy from an offline store. So, a good omnichannel strategy for your business would be to offer the best customer experience rather than offering individual experiences on different channels.
Single-Channel Vs Multichannel Vs Omnichannel
In single-channel retail, you sell products via a single channel, like an offline store. Single-channel retail can do wonders for your business. However, if you wish to give your customers a wholesome experience, it is recommended to sell products on multiple channels.
Multichannel retail means you are selling products on multiple channels. You can interact with your customers via SMS, phone, or social media. However, their experience on all channels is not unified, and they get a distinctive experience with your brand on all channels.
Omnichannel, on the other hand, takes place only on multiple channels. But the experience that it offers is unified and consistent across all channels. You connect all your stores in omnichannel as opposed to multichannel.
Benefits of Selling on Omnichannel Retail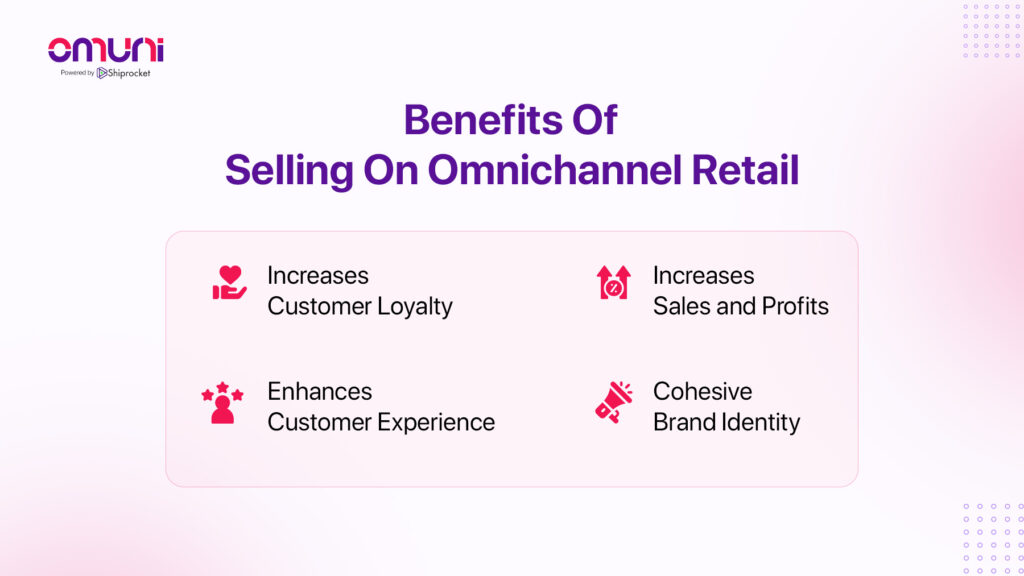 Let us now look at some benefits of adopting a multichannel strategy:
Increases Sales and Profits
With your customers coming across products through multiple channels, the chances of conversions increase. Many studies also show that omnichannel customers spend more when compared to single-channel customers. Thus, the strategy is worth your time and money.
Increases Customer Loyalty
Not only does an omnichannel strategy helps increase sales, but it also helps increase customer loyalty. The loyal customers also recommend the brand to their family and friends. You can create an engaging brand story on all your channels and offer discounts across channels.
Enhances Customer Experience
When starting a business, the first thing that comes to your mind is to offer the best customer experience to increase repeat purchases. This is where omnichannel comes in. Omnichannel increases the number of touchpoints and offers a consistent experience across all channels.
Cohesive Brand Identity
The omnichannel strategy helps in creating a cohesive brand strategy and identity. With consistent brand messaging across channels, your customers can identify your brand easily. Your communication strategy should be based on your audience's needs. Focus on offering them a pleasant experience to increase conversions and brand loyalty.
Busting Top 5 Myths of Omnichannel
The following are the top 5 misconceptions that people have about omnichannel strategy:
Myth 1: most sellers think that setting up an omnichannel strategy requires a lot of effort and costs. However, the benefits that you will get are more.
Myth 2: some people believe that an omnichannel strategy is for big businesses only. On the contrary, businesses of any size can adopt the omnichannel strategy to scale their business.
Myth 3: most people think that an omnichannel strategy is simply selling your products on multiple channels. However, it is not true. Omnichannel is about leveraging multiple channels to reach your target audience.
Myth 4: some people think that omnichannel is complex to understand and implement. Setting up an omnichannel strategy might take some effort, but the benefits it has on offer are more.
Myth 5: omnichannel is not a trend. It sure is going to be in trend for a long time. Many businesses have already benefitted from the omnichannel strategy, and you can also adopt it for your benefit.
Conclusion
The omnichannel experience has just started, and it has a long way to go. While adopting the omnichannel strategy, it is crucial that you first understand the goals and objectives you wish to achieve from this strategy. You should start with a strategic plan with a consistent experience across platforms.