Omnichannel vs Multichannel: Know the Key Difference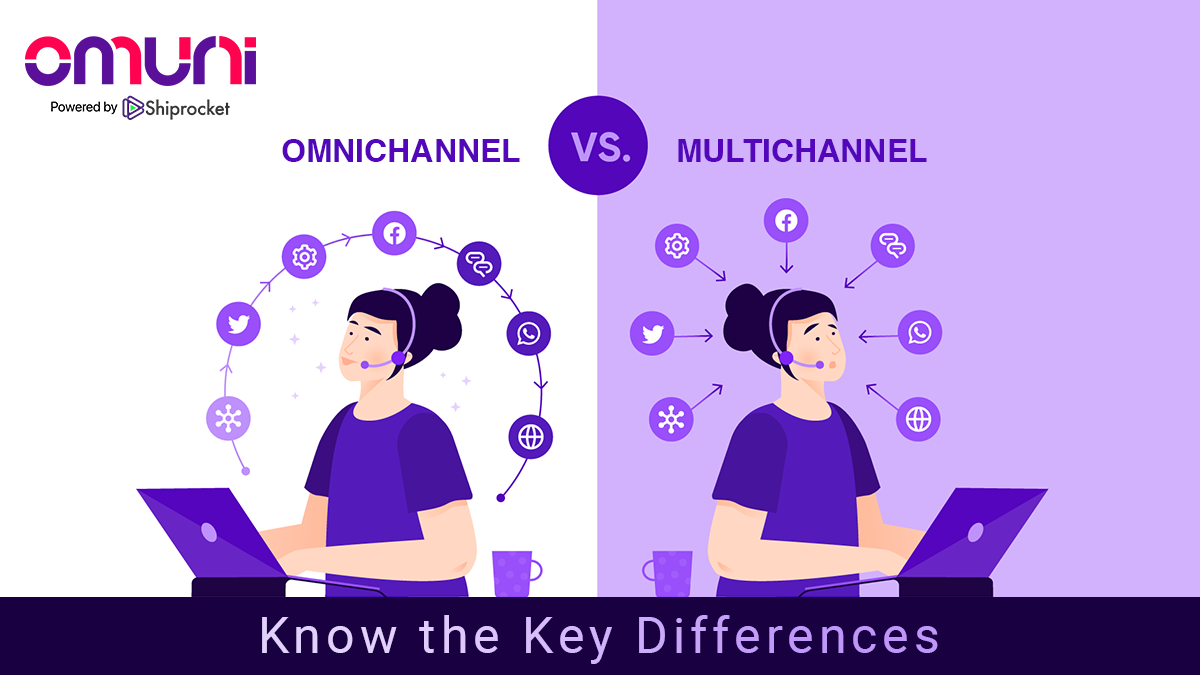 Many businesses search for omnichannel vs multichannel to understand which strategy is better for them. However, the reality is that both strategies can do wonders for your business if planned and executed well. Omnichannel and multichannel have their own merits, and the best one for your business would depend on your business type and the products and services you offer.
Here we will discuss the difference between omnichannel and multichannel strategies.
What is Omnichannel?
Omnichannel retail is linking offline stores with online businesses. The omnichannel strategy covers all touchpoints with the customers, starting from marketing to post-purchase activities. This strategy helps in keeping all customer and product data synced across different channels. The main goal of omnichannel retail is maximizing customers' experience and giving them a seamless brand experience.
How Omnichannel eCommerce Works?
An omnichannel strategy relies on collecting data and communicating it across various channels in a unified way. Omnichannel retail helps customers continue their journey across different channels. The following are a few strategies you can follow:
The strategy is to identify your customers' touchpoints to improve their interactions with the brand. You can create a customer-centric view of your brand to give your customers a more personalized experience. Brands can create a lasting impression to increase brand loyalty.
The next one is to build a strategy keeping your customers in mind. Try to deliver a quality experience for your customers to leave a long-lasting impact. Also, look for potential cracks in the system and fill them. Your goal here is to provide the best experience to your customers, and for that, you can also improvise your existing strategy.
Next, you need to centralise your data across all channels to always remain on top of your inventory. With access to current stock at each local outlet in one place, you can also ship online orders from the buyer's nearest store. This will save time and cost.
What is Multichannel?
In multichannel, you sell products on more than one channel. These channels can be offline, online, or a combination of both. You can sell your products on a brick-and-mortar store, the brand website, or other marketplaces. This strategy increases brand exposure and helps reach out to more customers via different channels with the same catalogue.
However, a multichannel strategy doesn't offer an integrated experience like an omnichannel. In multichannel, the customers' experience from one channel is isolated from the other. Generally, the data is not synchronized across channels in multichannel. Thus, businesses with multichannel retail face challenges with keeping business operations scalable and delivering a unified experience across all channels.
Let us take a look at the multichannel strategy:
You need to determine the channel(s) on which you wish to sell your products. Understand your customer profile and try to prioritize the channels they prefer to buy from. Also, analyse your competitors to know if the selected channel is worth selling on.
One shoe fit all doesn't work for multichannel retailing. Have different customer profiles for different channels. For instance, your customers on the branded website would be different from that on Facebook and Snapchat. Their age, purchasing power, location, education, etc., would be different.
Always have realistic sales goals and ensure your goals and marketing and communications team are on the same page.
Create channel-specific communications. For instance, videos work well on Facebook and Instagram. You can personalize them as well to make your audience relate to your messages well.
Omnichannel VS Multichannel Differences
Both strategies have the following key differences:
Omnichannel is customer-focused, while multichannel is product-focused. Omnichannel focuses on all the touchpoints a customer has with the brand. On the other hand, multi-channel focus on putting all the products across to as many customers as possible. Multichannel focuses on increasing product presence across channels.
In omnichannel, all the channels are synchronized together and they work together. Customers get a unified experience from all the channels. In multichannel, the channels are not integrated and customers get a unique experience from every channel.
In an omnichannel setup, both the online and offline stores work together in sync. In multichannel, there can be both online and offline stores but they are not integrated and they operate in sync.
With a multichannel approach, the customers' brand approach is limited to the channel they are comfortable with. However, with omnichannel, brand exposure increases as customers can interact with all channels.
Conclusion
An omnichannel strategy uses both brick-and-mortar locations and online channels to deliver an integrated brand experience to the customers. The goal here is to personalize the customer journey, achieve greater engagement, and increase customer retention. With an omnichannel strategy, customers can purchase each touchpoint.
The multichannel strategy puts across products using multiple channels to as many shoppers as possible. The channels are not integrated.
Both approaches offer the potential for businesses to increase customer satisfaction compared to the single-channel approach. With proper planning, execution, and the right technology, your business can reach new heights.