What is Order Fulfillment? Importance, Process and Top Strategies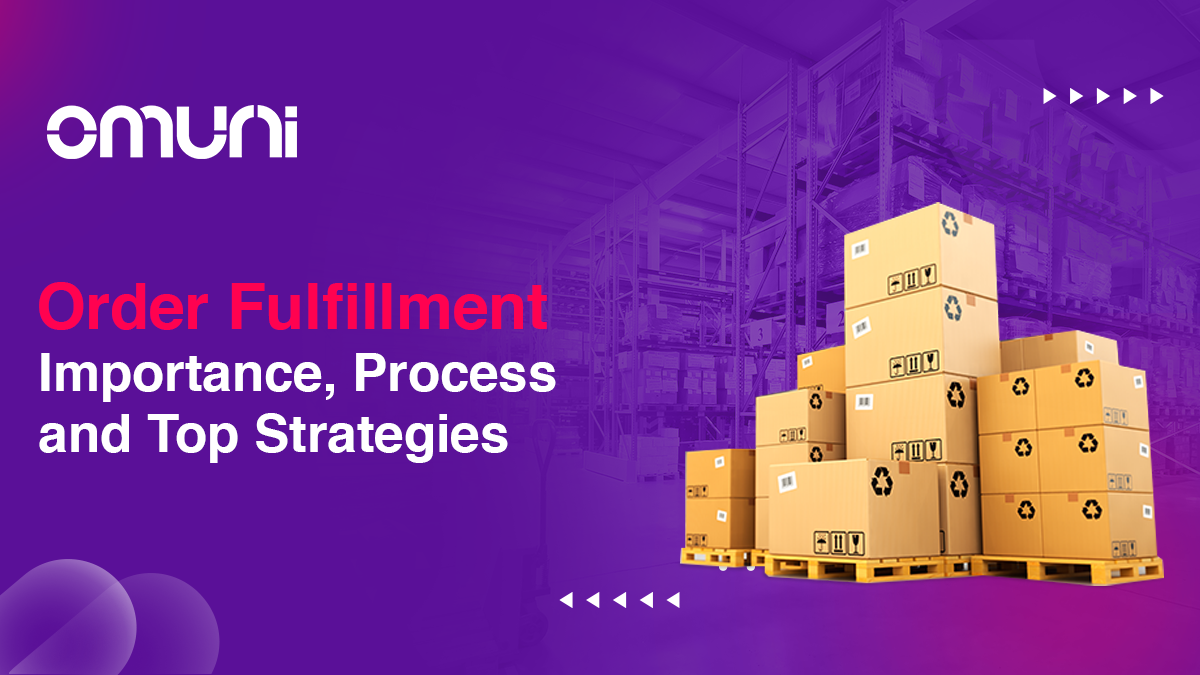 To ace the eCommerce game, you must prioritise order fulfillment. It is second to none when it comes to the factors making or breaking your online business. Not only does your order fulfillment process determine the trajectory of customer experience, but it also conveys the efficiency of your brand's operations.
If there is a slight stiffness in your order fulfillment strategies here and there, you negatively impact your customers' experience. And we all know what a bad customer experience can lead to. A good customer experience is so important! So much so that, as per a Metapack whitepaper, around 37% of the customers say they would not do business with a retailer again after a negative experience.
What is Order Fulfillment
Order fulfillment, sometimes called supply chain fulfillment, is a collection of all steps between accepting a new order and delivering it to the customer. The process begins when a customer places the order, and it does not end until the order gets delivered to the customer. The order may be placed through your brand's website or an online marketplace like Flipkart, Amazon, Myntra, etc.
Efficiently fulfilling the orders is an effective revenue generation catalyst and can boost your eCommerce sales. Businesses around the globe emphasise heavily and stick to advanced eCommerce order fulfillment processes meticulously.
As per a Grand View Research report, the global eCommerce fulfillment services market is increasing and will almost triple by 2030. It stood at $97.33 billion in 2022 and is likely to reach $272.14 billion by 2030. The efficiency of the order fulfillment process will be one of the most significant factors behind this compound annual growth rate (CAGR) of 13.9% from 2023 to 2030.
Why is Order Fulfillment Important?
The effectiveness of the order fulfillment process can profoundly impact your sales, customer experiences, loyalty, and overall perception of your brand. Additionally, order fulfillment is crucial to help you stay ahead of your competitors and foster long-term growth.
Here is why order fulfillment is of paramount importance:
Increased Operational Efficiency: A streamlined order fulfillment process enhances the overall operating efficiency of your supply chain. Simplifying processes, minimising errors and optimising inventory management can reduce costs and improve productivity. An efficient process ensures you use your resources effectively, reducing waste and maximising profitability.
Business Growth: Successful order fulfillment is directly proportional to your business growth. Increased operational efficiency and other factors, helped by a robust fulfillment process, contribute to sustainable eCommerce growth.
Competitive Advantage: Competition in the eCommerce landscape is as intense as it can get. In the times when brands research and burn midnight oils finding that one aspect they can capitalise on and leapfrog their competitors, an efficient order execution process can give them a competitive edge. Fast shipping coupled with reliable and timely delivery can differentiate a business from its competitors, attracting more customers and increasing sales. Usually, buyers prefer the convenience and quick order fulfillment when deciding where to purchase.
Customer Satisfaction: Timely and accurate order fulfillment ensures customer satisfaction. When you deliver orders to your customers promptly and in good condition, they are more likely to have a positive experience. Satisfied customers are more likely to return and help your business grow.
Increased Customer Loyalty: Increasing brand loyalty is one of the most significant benefits of a streamlined order fulfillment process. A positive order fulfillment experience drives customers to develop loyalty towards your brand. Repeated customers who trust your process are less likely to explore other options and consider your competitors. This loyalty is vital to building long-term customer relationships and increasing lifetime value.
What is the Order Fulfillment Process?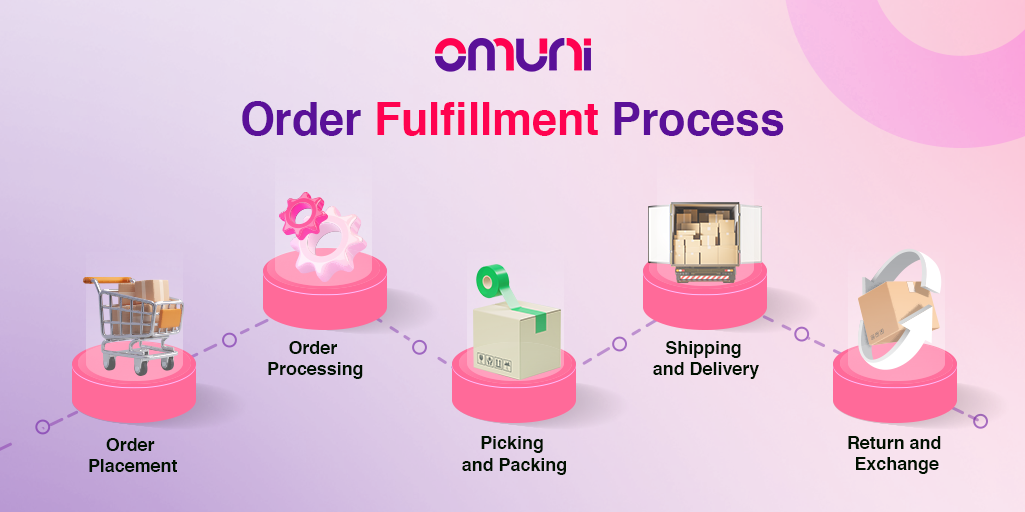 Order Placement
The first step of the order fulfillment process begins when a customer orders. It can happen through different channels, including but not limited to a mobile application, online website, social media platform, phone call, or in-store purchase. A streamlined and user-friendly ordering system is essential to capture all necessary information, such as product details, quantities, and shipping addresses.
Order Processing
It is often discounted but a necessary step! It involves verifying addresses, checking inventory levels, validating payments and ensuring inventory availability. This is where a robust inventory management system does the job for you. Here, you track product availability and recalibrate your inventory accurately to stay at optimum levels.
Picking and Packing
It is time to pick and pack the order items after processing and verifying the order. Now, the affairs move from the digital space to the fulfillment centre (in-house or outsourced). The step involves locating the items within the storage facility and carefully packing them. Please remember to send the necessary documents.
Shipping and Delivery
One of the most critical steps of the fulfillment process is shipping. Packaged items are brought to one place to get shipped. Please note that some items may require specific eCommerce packaging. This packaging will keep them safe during transit and help you and the courier company adhere to certain applicable norms.
You can now ship the order through your own logistics or a third-party service. Once the order is shipped, customers can track their orders.
Returns and Exchanges
Managing returns and exchanges is as crucial as the pre-return exercises. In many cases, customers may need to return items for various reasons, including but not limited to size and quality issues.
It is worth mentioning that a seamless return and exchange procedure and responsive customer support are vital. It can turn a potentially negative customer experience into a positive one, boosting customer loyalty.
Top Order Fulfillment Strategies
Optimise Inventory Management
Optimising inventory management is one of the first and most essential order fulfilment strategies. This speeds up order fulfillment and helps you deliver orders faster. One of the ways to optimise your process is by doing the basics right and localising inventory.
Prioritise Demands
Not all orders are equal in terms of delivery urgency and order value. You may implement a demand prioritisation system based on customer loyalty, destination distance, etc., to ensure that high-priority orders are processed and shipped timely. This helps you ascertain exceptional service while optimising overall operational efficiency.
Streamline Return Process
Establishing a well-defined, simplified and efficient return process is important. It helps you stay in control of your fulfilment cycle. Also, you can deliver a positive customer experience by streamlining the return process and seamlessly processing refunds or replacements.
Conclusion
Order fulfillment is one of the most critical components of the supply chain, as it directly impacts customer satisfaction, brand reputation and overall success. A streamlined and well-executed process guarantees timely product delivery, improves customer experiences and fosters loyalty.
Brands can implement top strategies such as efficient inventory management and a smooth return process to optimise order fulfilment. Quality control measures and process automation can contribute to streamlined operations and improved efficiency.
Why is the order fulfilment process necessary?
It helps ensure prompt and timely order delivery.
What are the four stages of the order cycle?
Usually, it consists of order placement, processing, picking and packing, shipping and delivery
What is fulfillment failure?
It is an occurrence of a breakdown or blockage at some point in the fulfillment process.