What is Order Management and Why is it Important for Your Business?
The new generation of shoppers has become channel-agnostic and is spending more than ever buying products from different platforms. According to a report by McKinsey, customers who shop across multiple channels spend four times more than those who shop on just one.
Therefore, it has become crucial for brands to sell their products on multiple platforms. But being present on multiple channels increases challenges in order management, order fulfillment, inventory management, and logistics management.
To effectively sell on multiple channels and positively impact brand revenue, all the systems need to work seamlessly together. This is where a good order management system comes into the picture. It can do all this automatically, so you can focus on scaling your business.
Key Takeaways:
An order management system is a software solution that automatically manages the complete lifecycle of an order.
An order management system streamlines orders from all channels, automates fulfillment, monitors inventory, handles logistics, manages customer data, and more.
An order management system benefits businesses by reducing delivery timelines, preventing under and overstocking, reducing operational costs, and more.
What is Order Management?
Order management is tracking orders from the moment they are created until the order reaches the end customer. This allows you to synchronize your inventory, incoming orders, and logistics partners so that you have complete control over the fulfillment process.
Typically, order management is built around the customer's life cycle, which includes placing an order, delivering the order, and returning or canceling the order. Getting order management right helps brands not lose orders along the fulfillment process and deliver a consistent shopping experience to their customers.
What is Order Management System?
An order management system is a software solution that automatically manages the complete lifecycle of an order. The OMS tracks complete information on inventory availability, order entries, payment collection, shipping, and more to achieve this.
An order management system touches every aspect of your business, like sales channels, inventory locations, the finance department, the customer service team, suppliers, end customers, and more. Because of these integrations, an OMS provides real-time inventory insights to you and informs your customer when the order will arrive.
What Does an Order Management System do?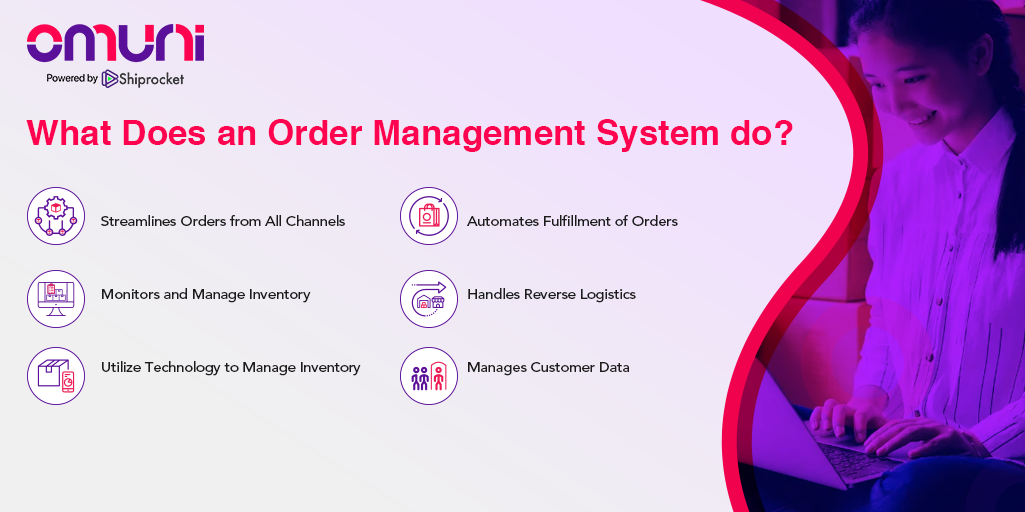 Let us dive into what are the capabilities of an order management system.
Streamlines Orders from All Channels
An order management system is integrated with all the sales channels, like stores, website(s), marketplaces, apps, and social media. It keeps track of orders created across all channels and constructs an order funnel so that it is easy for your business to fulfill them in a timely manner.
Automates Fulfillment of Orders
An OMS manages the whole supply chain in a centralized system and automates the complete fulfillment process from beginning to end. It pushes the orders through the different stages of picking, packaging, and shipping by creating picking lists, generating invoices, and printing shipping labels.
Monitors and Manage Inventory
An OMS monitors your inventory across all store and warehouse network nodes and displays it on both online and offline sales channels. It lets you keep your inventory levels right and prevents you from understocking or overstocking.
Handles Reverse Logistics
A good OMS handles your reverse logistics, i.e., when customers return the products for refund or exchange. It enables customers to track their return status and provides you with complete return visibility.
Manages Customer Data
An OMS also works as a CRM platform where you can manage complete customer data such as order history, preferences, location, etc. You can use this data to offer personalized offers to your customers based on their shopping habits.
What are the Benefits of an Order Management System?
A good OMS not only manages orders for your business but provides many additional benefits:
Reduce Delivery Timeline
An order management system reduces the time from order creation to fulfillment. The longer an order takes to fulfill, the longer it takes to reach the end customer.
OMS shortens the fulfillment process by allocating orders to the fulfillment center nearest to the customer. It also streamlines the whole order creation, picking, and packaging stages, drastically reducing delivery times.
Prevent Overstocking and Understocking
It requires careful balancing to maintain the correct inventory level. If you understock your inventory, you risk customers waiting for their orders, shipment delays, and even losing sales to competitors.
But if you overstock your inventory, you risk reducing cash flow on unwanted products and losing potential sales. Therefore, an OMS prevents understocking and overstocking so that you have the correct balance of stock levels.
Reduce Fulfillment Errors
An OMS reduces human error in the system, which is one of the main causes of fulfillment errors. An OMS makes sure the correct product is shipped to the customer by generating correct invoices and shipping details and connecting with logistics partners.
OMS automates and synchronizes the processes, which keeps your customers delighted and engaged.
Track Business From Anywhere
An OMS makes it very convenient for you to track your business performance from anywhere, anytime. It sends the feed to your computer or mobile device so that you can operate and track your business.
It also allows your customers to buy anything you sell anytime, anywhere. An OMS creates a win-win situation that allows orders to be processed efficiently and keeps your customers satisfied.
Forecast Inventory Requirements
An OMS tracks your current orders and helps you understand the trends and patterns of your sales. This allows you to create an accurate forecast for inventory and plan your investments.
Improve Customer Service
An OMS can also provide real-time status updates on all inventory and current orders. This benefits your customers, as they also receive the updates, and instead of waiting for a package, they know when to expect it. Overall, this results in improved customer service and an improved customer experience.
Conclusion
It has become increasingly important for brands to sell their products on multiple platforms. To achieve the same, brands need to automate the order management and fulfillment processes and adopt technologies and tools that empower their businesses.
An order management system manages every aspect of your business, like sales channels, inventory, fulfillment centers, suppliers, end customers, etc., so that you can focus on scaling your business. To sell effectively on multiple channels, a good order management system is essential.
Frequently Asked Questions (FAQs)
What is the difference between CRM and OMS?
A customer relationship management (CRM) tool manages customer data, such as contact information and previous purchases.
An order management system (OMS), on the other hand, tracks orders and automates order management tasks.
What are the best practices in order management?
The best order management practices to follow for e-commerce are:
1- Centralized management of inventory
2- Usage of technology and automation
3- Revisit and fasten your packaging process
4- Create a system for dealing with returned items
5- Train your employees
What is the order management workflow?
Workflow in order management refers to the activities that enable customer orders to be fulfilled. This includes everything from order creation to fulfillment, like customer orders, creating invoices, managing inventory, packaging items for shipment, handover to a logistics partner, etc.