The Rise of Social Commerce in India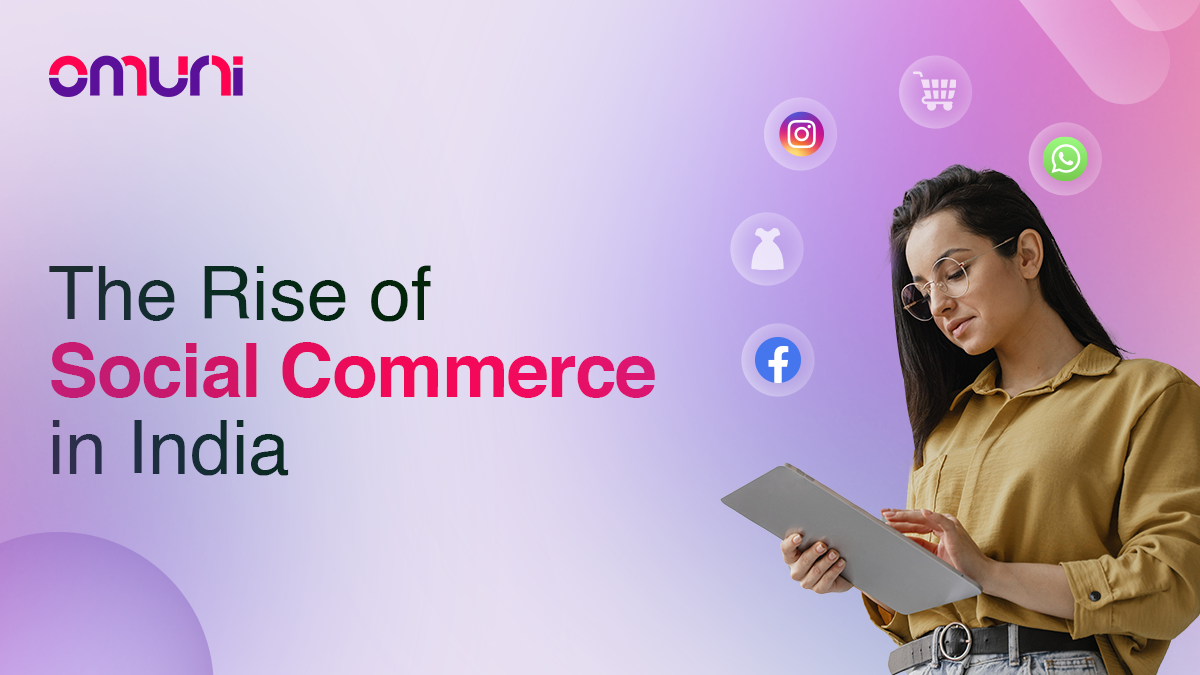 With more than 900 million active Internet users, Indian users have well-adapted themselves to social media. There has been a substantial increase in social media users in India, especially after the sudden surge in smartphone usage between 2015 and 2020, where the number of users grew more than five times. Today, social media plays an important role in decision-making and influences Indians' tastes and preferences daily. Because of this evolution, where users get influenced by social media has given rise to social commerce.
Social commerce is when brands combine the best of social media with e-commerce. Social commerce aims to market products on the platforms where customers spend time and taps into the traditional advertising method, i.e., word-of-mouth advertising. Word of mouth has been the backbone of social commerce, where social media helps brands to interact with their customers and smartly place their products using platforms like Facebook, Instagram, TikTok, YouTube, Snapchat, etc.
What is Social Commerce?
Social commerce is the model where brands sell their products directly to consumers using social media platforms like Facebook, Instagram, TikTok, Snapchat, and several others social platforms. Brands exert their influence on their potential customers to buy their products using short-form videos, images, chats, and GIFs, increasing their sales and profits.
Social commerce is an affordable way for small businesses to create an online presence, and for larger businesses, it presents a cost-effective opportunity to acquire new customers without offering deep discounts. Because of its close relationship with social media, social commerce provides high engagement and retention of customers.
Drivers of Social Commerce in India
In India, it is estimated that by 2025, the e-commerce market will reach $220 billion, and social commerce will reach $50 billion, contributing to almost 25% of total online sales. Many factors drive this high growth:
Rising number of online shoppers
Growth in investments
Increasing preference for shopping online
Increasing social media influence
Government initiatives
#1 – Rising Number of Online Shoppers
Today there are more than 200 million online shoppers in India, which is expected to reach 50 million by 2030, according to a report. Because of such high social media engagement levels, social commerce will only increase and is expected to play a significant role in India's e-commerce space.
#2 – Growth in Investments
The e-commerce industry in India is witnessing a surge in investments from global players. For instance, Facebook invested $5.7 billion in Reliance Jio in 2020 to reach the next billion people. Furthermore, Google also invested $4.5 billion in Ambani's Reliance Jio platforms.
Apart from this, there is a constant increase in investments in small and midsized businesses in India related to the e-commerce industry. For instance, Mall 91 raised $7.5 million from Beenext and Kalaari capital. Bulbul, a live social commerce application, raised $5 million from Sequoia.
#3 – Increasing Preference for Shopping Online
According to a report by Invest India, the value of Indian e-commerce was $55 billion in 2021 and is expected to reach $350 billion by 2030. The e-commerce sector in India is on an upward trajectory, and more and more people prefer shopping online to stepping outside, especially after the pandemic. This change in customer behaviour has driven the growth of social commerce in India.
#4 – Increasing Social Media Influence
More than 28% of millennials say they buy products through social media endorsements and keep track of the latest trends on multiple platforms. Because of this wide influence of social media, brands are taking significant measures to build their brand image and recall on social media platforms.
#5 – Government Initiatives
In recent years India has shown a tremendous change in doing business. The government has planned many strategies to make India more self-reliant, giving rise to a start-up culture. Initiatives like UPI payments, Aatmanirbhar Bharat, Make in India, Vocal for Local, and many more have encouraged domestic producers to innovate and make the country competitive in all business spheres.
Conclusion
Social commerce in India has enabled users to purchase through interactive content without leaving their favourite app. At the same time, it allows brands to influence their potential customers and boost sales. This makes it a win-win situation for both brands and customers.
Many factors are driving the growth of social commerce in India, like an increase in the number of smartphone users, the widening influence of social media, increasing investments, changes in customer behaviour, new government initiatives, and many others. This growth in social commerce will also drive growth for industries like logistics, warehousing, omnichannel, etc.