What is Social Commerce and Why is it Important for Your Retail Strategy?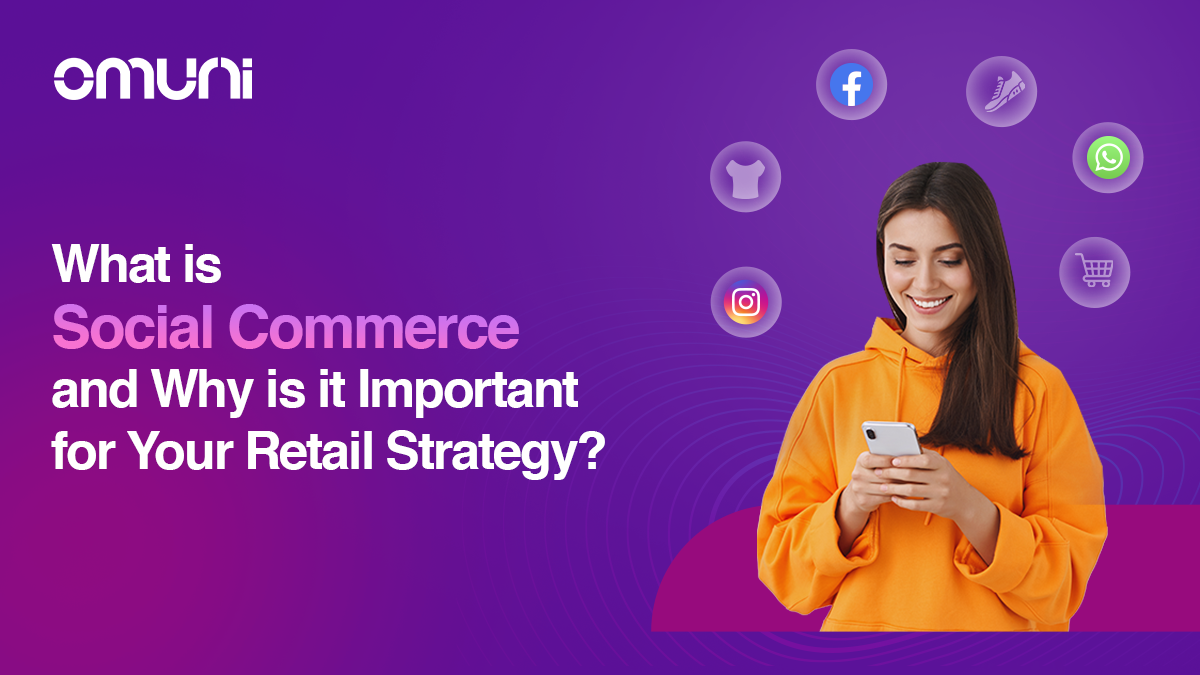 Social media is growing like a weed. According to a report by Statista, today, more than 4.26 billion people, or more than 57% of the global population, use social media worldwide. It has become a no-brainer for brands and retailers to leverage social media to sell their products.
Social commerce is when brands combine the best of social media with eCommerce. The idea of social commerce is to market your products on the platforms where your customers spend time. It is reported that worldwide social commerce is expected to reach $2.9 trillion by 2026, according to Statista.
Therefore, if you are a brand or a retailer looking to sell products, it is by far the best time to include social commerce in your retail strategy. Read on to learn more about social commerce and why you should try social commerce.
What is Social Commerce?
Social commerce is leveraging social media platforms like Instagram, Facebook, Whatsapp, and TikTok to sell your products and services. It brings your business to social media platforms, resulting in the widening of your customer base and brand reach.
In social commerce, the customers complete their buying journey, i.e., from discovering the product to checking out and making the payment is done without leaving the social media platform. For instance, you might find a pair of earbuds on your Instagram feed; you can click 'Shop Now' and add it to your cart. You can also complete the purchase in the app or wait until you decide to purchase the earbuds.
Social commerce provides a highly engaging and convenient shopping experience that gives customers the flexibility they look for in their buying journey. These are the opportunities for selling your products on the channel your customer base uses the most and should be taken advantage of.
Is Social Commerce Different from eCommerce?
Yes, social commerce is different from eCommerce and cant be categorized in the same branch. eCommerce is the shopping model that takes place on a brand's eCommerce website, online store, or application.
On the contrary, social commerce allows customers to buy products on social media platforms. Social commerce is generally cheaper than eCommerce as it doesn't require building an online store, website, or app.
Benefits of Social Commerce
There are many benefits to using social commerce for your business. The top five benefits are:
Deliver a Frictionless Shopping Experience
Social commerce provides a seamless way of shopping by removing unnecessary steps and bottlenecks in the buying process. With bottlenecks removed, there's more chance of customers completing their shopping, thereby increasing your sales. By allowing customers to discover and check out on the same platform, social commerce reduces the risk of losing a customer dropping off.
Increase the Brand Reach and Customer Base
The user base on social media is ever-increasing. The total social media user base is expected to reach 5.17 billion by 2024. Today there is more opportunity to reach a global audience and increase your customer base.
By leveraging social commerce, your brand can reach an audience never imagined. Also, you can selectively target your audience with different products according to their demographics.
Build Trust Using Reviews
According to a report, 89% of customers read online reviews before finalizing a purchase. To build trust in a brand, customers look at other customers' reviews and take social proof before making a buying decision.
Social commerce has user reviews integrated into the platform with the help of followers, comments, likes, and shares. Once your brand builds social media trust, other users become increasingly likely to count on your brand.
Gather Customers' Data
Social media is one of the biggest customer data sources as people post and share content on these platforms. Marketers gather data like age group, demographics, geographical location, etc., to develop marketing strategies. Using this data, brands can design highly targeted campaigns to target their audience by showing them relevant products.
Receive Feedback
Social media lets you communicate directly with people and get feedback on your brand and products. Customers like to share their thoughts because it makes them feel important. Retailers can use this feedback to adapt their offerings and match client expectations.
Conclusion
Social media has transformed how businesses and customers connect, and social commerce is the place that provides customers with flexibility and convenience. Brands and retailers need to embrace this change and adopt it quickly.
Social commerce provides many benefits to your brand and customers, such as delivering a frictionless shopping experience, increasing brand reach, building trust using reviews, gathering customers' data, and many more. The sooner brands begin experimenting with social commerce, the faster they scale.
Frequently Asked Questions (FAQs)
What are the 6 Cs of social commerce?
The six C's of social commerce are commerce, content, context, community, conversation, and customization.
What is the biggest social commerce platform?
The biggest social commerce platform is Facebook. Almost 65.7 million people use Facebook for buying a product or a service.
What is the size of social commerce in India?
The size of social commerce in India reached $3.3 billion in 2022 and is expected to reach $18.2 billion by 2028, showing a 32% Y-o-Y growth rate.