What is Unified Commerce and Why is It Essential?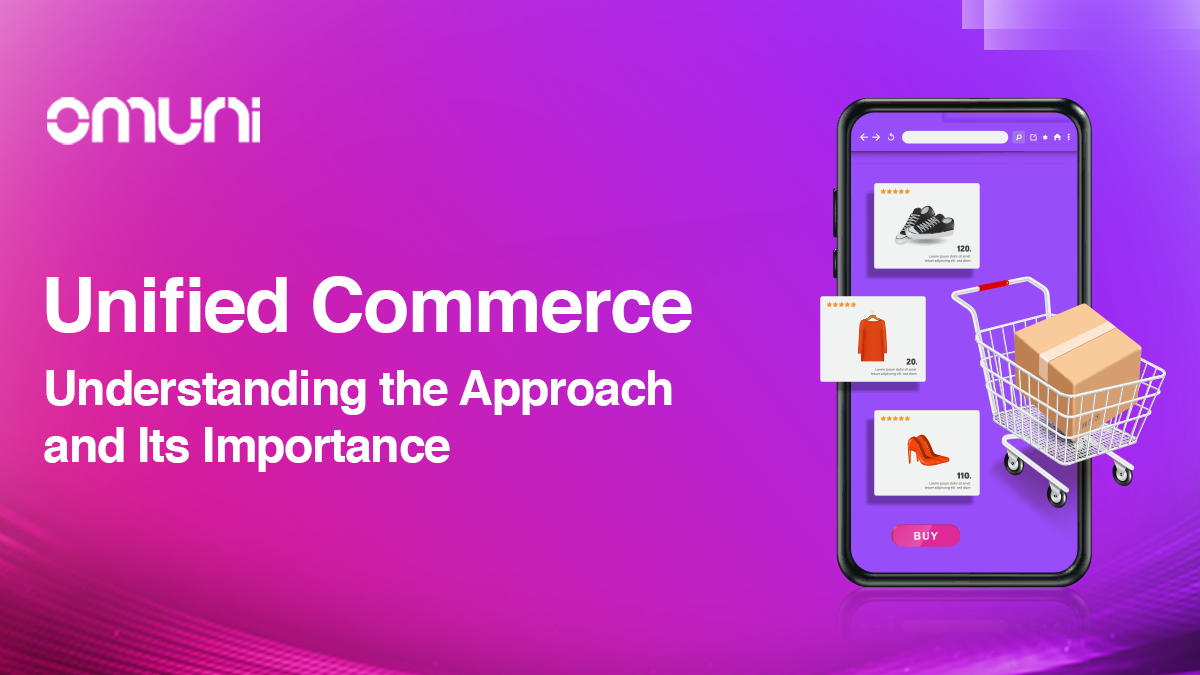 It is a universal fact that commerce is not limited to a single channel in the 21st century. Now, consumers have the luxury of choosing their preferred channels to shop. These days, they expect seamless experiences across all channels more than ever before. Now, customers want all channels to service them anywhere and anytime.
This trend will likely stay, and businesses must find ways to come out on top every time. To meet this demand, brand and retail companies should move from multichannel platforms to unified ones that increase engagement and foster repeat business. Unified commerce will help retailers leverage extensibility and scalability to succeed in 2023 and ahead.
What is Unified Commerce?
Unified commerce is a retail strategy that integrates all retail systems to provide a seamless and consistent shopping experience across all channels and touchpoints.
Unified commerce goes beyond the traditional multichannel approaches to create a unified ecosystem that connects all sales channels. It allows users to purchase products and navigate the retail experience seamlessly, digitally or in-store.
Generally, in a unified commerce model, online and offline retail channels are not treated as separate entities but are combined to function harmoniously. The primary objective of unified commerce is to render a cohesive and interconnected shopping journey by breaking down the barriers between different channels, such as physical stores and digital channels.
Key Components of Unified Commerce
Omnichannel Integration
The very basic of unified commerce means integrating multiple software systems for specific business purposes. You should have a system that connects all your sales channels, inventory management and order processing details in real time.
A robust software system ensures that a piece of specific information is consistent and up-to-date across all touchpoints. This way, you can make better decisions and ensure personalised customer experiences.
Single Customer View
Unified commerce allows a comprehensive view of each customer by consolidating data from various touchpoints and channels. This holistic customer approach lets you understand customer behaviour, personalise interactions and offer relevant recommendations.
Centralised Inventory Management
One of the most important aspects of this system is that it enables you to maintain a centralised inventory management strategy that keeps track of stock levels across all channels. This ensures that customers can access real-time product availability and prevents issues like overselling or stockouts.
Unified Payments
Another essential element of unified commerce is the integration of payment systems across all channels. You should ensure a seamless and secure transaction whether customers pay in-store or online.
Real-Time Data Analytics
The very concept of unified commerce greatly relies on real-time data analytics. Data helps you monitor and analyse customer behaviour, sales patterns and inventory levels. A data-driven approach lets you make informed decisions and respond quickly to market changes and customer needs.
Security and Compliance
Security and compliance are paramount whenever sensitive customer data and transactions are involved. Since unified commerce deals with such data, robust compliance with industry standards becomes crucial. You should deploy modern security measures to protect customer information and build trust.
Why is Unified Commerce Important?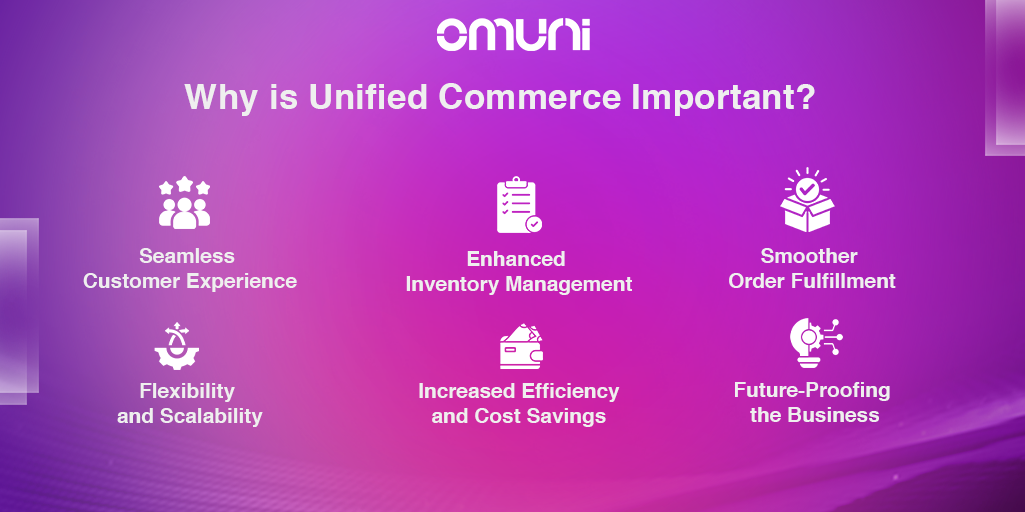 Unified commerce addresses the challenges of the modern retail landscape and meets the evolving expectations of today's customers. Here are some of the reasons why unified commerce is essential:
Seamless Customer Experience
Customer experience is above everything else. Unified commerce provides a consistent and seamless shopping experience across all channels. It enables customers to switch between online and offline platforms without any disruptions. This way, you increase brand loyalty and boost your chances of getting referred by your customers.
Enhanced Inventory Management
Centralised inventory management in unified commerce ensures you have accurate, up-to-date inventory information across all channels. With a unified inventory, you can easily prevent stockouts and improve inventory turnover.
Smoother Order Fulfillment
One of the significant advantages of unified commerce is that it lets you keep track of the products in your warehouse. If a product is unavailable in one warehouse, the system helps you locate where it is in stock and ship the order from that place.
Flexibility and Scalability
We all look for flexibility regardless of the industry or business domain. Unified commerce systems are flexible and scalable, allowing you to adapt to changing consumer behaviour and emerging technologies. This adaptability helps you stay competitive in today's rapidly evolving retail landscape.
Increased Efficiency and Cost Savings
By integrating various systems and processes, this approach streamlines your retail operations, reduces duplication of efforts and eliminates inefficiencies. This way, you save costs and improve overall operational efficiency.
Future-Proofing the Business
It is almost a certainty that unified commerce will be a game-changer in the days to come. As the retail industry continues evolving, this approach will become increasingly important. It provides a foundation for seamlessly integrating new sales channels and technologies. You can future-proof your business by adapting to emerging trends and customer preferences.
Top Unified Commerce Strategies in 2023
Unified commerce has been a growing trend in the retail industry, aiming to create a seamless and consistent shopping experience. While several unified commerce strategies will likely gain prominence in 2023 and beyond, an approach that enhances customer experience will always be the epicentre.
A Google Cloud report shows roughly 12% of retailers have taken additional steps to offer rich and distinct customer experiences. Here are some top unified commerce strategies for 2023:
Omnichannel Personalisation
Personalisation is a game-changer, and customers absolutely enjoy it. According to an Accenture study, 91% of consumers prefer brands that offer relevant offers and recommendations.
You can leverage data analytics and AI-driven algorithms to deliver personalised shopping experiences across all touchpoints. Primarily, this involves understanding customer behaviour, preferences and purchase history.
Real-time Inventory Management
Inventory is inseparable from the retail business. It can impact your overall retail if not appropriately handled. You can deploy advanced inventory management systems that update in real-time. This way, you can ensure accurate product availability information across all channels, prevent overselling and improve customer satisfaction.
Mobile-first Approach
Mobile phones are the go-to devices for most people nowadays. As per Similarweb, in June 2023, mobile devices accounted for 78.02% of traffic in India. Recognising the increasing prevalence of mobile shopping, you should focus on optimising your websites and apps for mobile devices.
Seamless Checkout
Nobody likes a longer and more complicated checkout process. You should implement one-click checkout options and secure payment gateways. This way, you can streamline the payment process, reduce cart abandonment rates and enhance customer experience.
Conclusion
Unified commerce stands as a transformative concept in the retail world. It could reshape how businesses interact with their customers across various channels. Unified commerce is a powerful catalyst for growth and success in the retail industry.
Integrating online and offline touchpoints allows you to create a unified and consistent shopping experience that today's consumers desire. By adopting this approach, you can access new possibilities to establish deeper connections with your customers and stay ahead in an evolving world of commerce.
How does unified commerce benefit customers?
Unified commerce benefits customers by providing a seamless shopping journey, where they can effortlessly switch between online and physical stores, access real-time inventory and enjoy personalised offers.
Can small businesses implement unified commerce?
Yes, unified commerce is adaptable for businesses of all sizes.
What technologies are involved in unified commerce?
Unified commerce relies on a combination of technologies, including advanced POS systems, inventory management software, customer relationship management (CRM) tools and eCommerce platforms.